We are delighted to offer this engaging and informative chocolate business event for secondary school pupils – CHOCOLATE ENTERPRISE DAYS!
What better way to inspire pupils than using chocolate as a medium!
We can work with a whole year group – starting the day with a plenary session filled with real-life examples of running a chocolate business from a multi-award-winning business owner, Dawn Fry. This session is aimed at educating and inspiring pupils ahead of the big challenge….. creating a brand new chocolate company concept from scratch.
Pupils will then head off to their new 'company headquarters' where they will formulate a fantastic new chocolate company. Formed entirely of students, they will work in 'departments' consisting of product development, finance, marketing and technology, overseen by a management team. They will submit a business plan and work on a presentation to be delivered at a 'conference' later that day.
A winning company will be announced at the conference after each company has had a chance to present their ideas to the Board.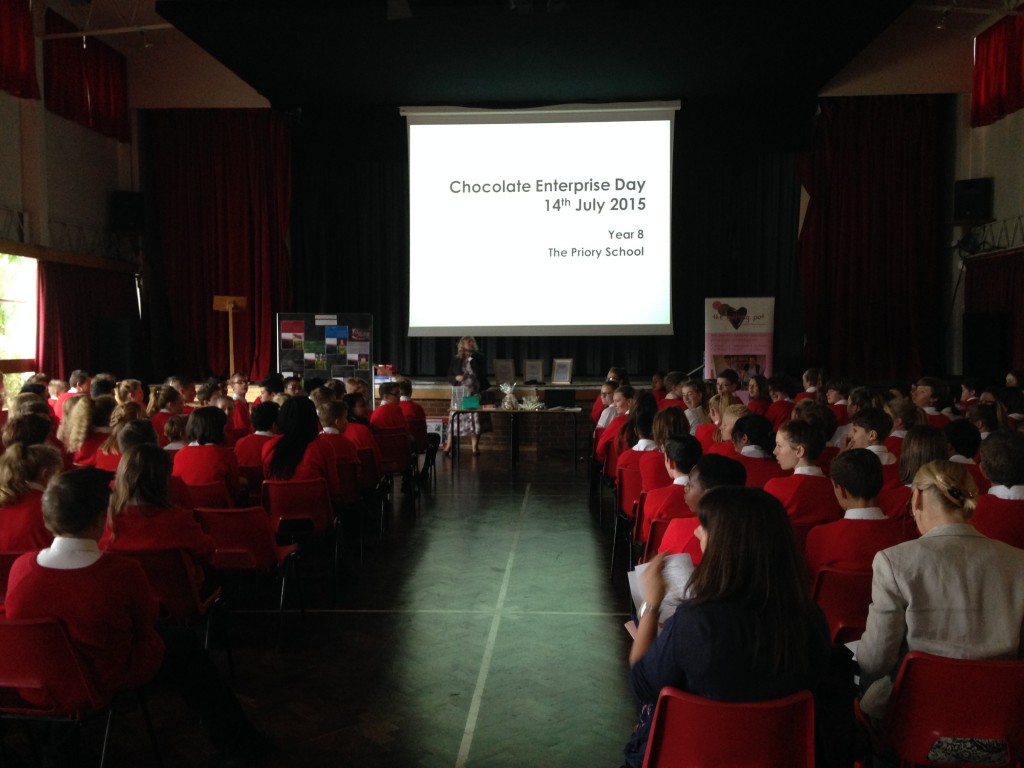 Aimed at developing research, communication and problem-solving skills as well as promoting team work and creativity – this day is a huge hit with pupils and teaching staff alike, creating a real buzz and enthusiasm for the task and most importantly, developing skills for life beyond school.
In the words of one young budding entrepreneur…..
"I've really enjoyed today. I think I want to start my own business one day, as then you could really make a difference in the world."
Pupils have the chance to research a little history of chocolate as well as how chocolate is made prior to the day, and of course, take part in some chocolate tasting!
Here's some feedback from a recent enterprise day:
"I approached Dawn about delivering a workshop to Year 8 students at The Priory School, where I work in the careers department. The remit was to create an interesting, engaging enterprise day that the students would truly learn from. The results were amazing: students responded to Dawn's enthusiasm and energy with some of the most creative, exciting work-related learning that I have ever seen in a school setting. They were truly "buzzing" throughout the day and the presentations at the end were incredible. Dawn worked hard all day to explain, support and encourage the students and the supporting teachers, and we were so impressed with her and the workshop itself. The feedback from staff and students was nothing but positive and I have no hesitation in recommending Dawn to other educators – and in fact, I have re-booked her for October already!"

Kate Allan, Raising Aspirations, The Priory School
If you would be interested in holding an Enterprise Day at your school, please email or call Dawn on 07966 365515 for further information and to discuss your requirements in more detail.