HOT CHOCOLATE TEAM DAY
I've teamed up with hubby and blacksmith Jo Fry and together we have created a very unique and memorable team day, combining time at the forge and chocolate-making!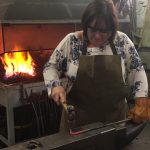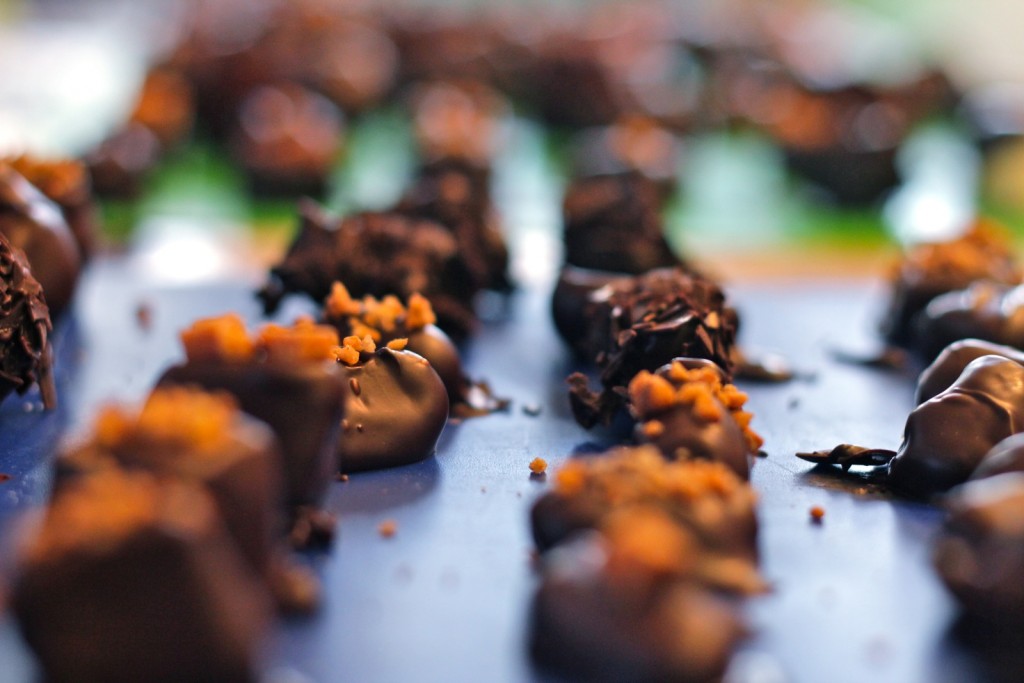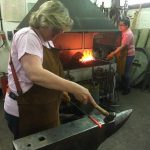 "What an absolutely brilliant day. Thank you so much to you and Jo for hosting us; it was a unique experience. The perfect day really as everyone had a go at a new skill, we came away with a stunning reminder of our day for each office and had great fun with the chocolate."

Leona Barr-Jones, Operations Director, Focus 7 International
Chocolate provides the ideal medium for great team events, whether for some fun bonding activity, or more of a competitive challenge!
We will always aim to tailor the event to suit your particular requirements – from small intimate group activities to large-scale events, please ask us for a competitive quote and let chocolate help make your event a memorable success.
We have been booked for many reasons – to welcome interns to the new team, help recruitment drives in a competitive industry sector, swell attendance at networking events to name but a few!
Having a vat of lovely chocolate is a good start to any event, but of course, that's only half the story! I have grown my business with a huge emphasis on customer experience, and I share what I have learned and honed in my own business and combine this with chocolate for a very fun and informative day entitled:
GETTING STICKY CUSTOMERS 
How to embed a great customer service culture and have fun with chocolate!
CHOCOLATE CHALLENGES
A team challenge – bring a new chocolate product to market and convince The Board to invest in your concept.
CHOCOLATE TALK AND TASTING EVENTS 
Tailored to all sizes covering history, the bean to bar, gourmet tasting, chocolate quiz and much more!
Call me today on 07966 365515 or drop me an email to discuss how chocolate can help enhance your event.
What previous clients have said:
A chocolate talk and tasting for a large group:
Dawn from The Melting Pot provided a workshop for our Relate Christmas event Nov 2021 which was fantastic – not only was it informative but great fun, not to mention tasting lots of delicious chocolate. Dawn was friendly and made everything very easy from the first point of contact. We would highly recommend Dawn.

Relate North Thames and Chilterns

"Good for team bonding and Dawn was an excellent host."

Ella
"The workshop exceeded my expectations! Dawn was excellent, friendly and very helpful."

Steph
In response to running the chocolate challenge event for the launch of a management development programme:
"We found the experience both enjoyable and informative. Your love of what you do, coupled with an interesting concept, helped both engage the team and allow them to work effectively together in pursuit of a common goal. It created an excellent atmosphere from which we have been able to harness that energy to drive on the rest of the programme and I would be happy to recommend this to other businesses."

Tim Drew, Germains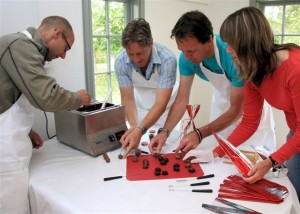 TO BOOK
Groups of all sizes can be catered for.
Each event will be tailored to your specific requirements.
It can include piping lollipops, making chocolates, tastings, talks on the history of chocolate and the bean to bar story.
Please email or call Dawn on 07966 365515 for further information and to discuss your requirements.
I look forward to working with you and the rest of the team (and a little chocolate too of course)!