In a group, on your own, a couple of friends – everyone is welcome!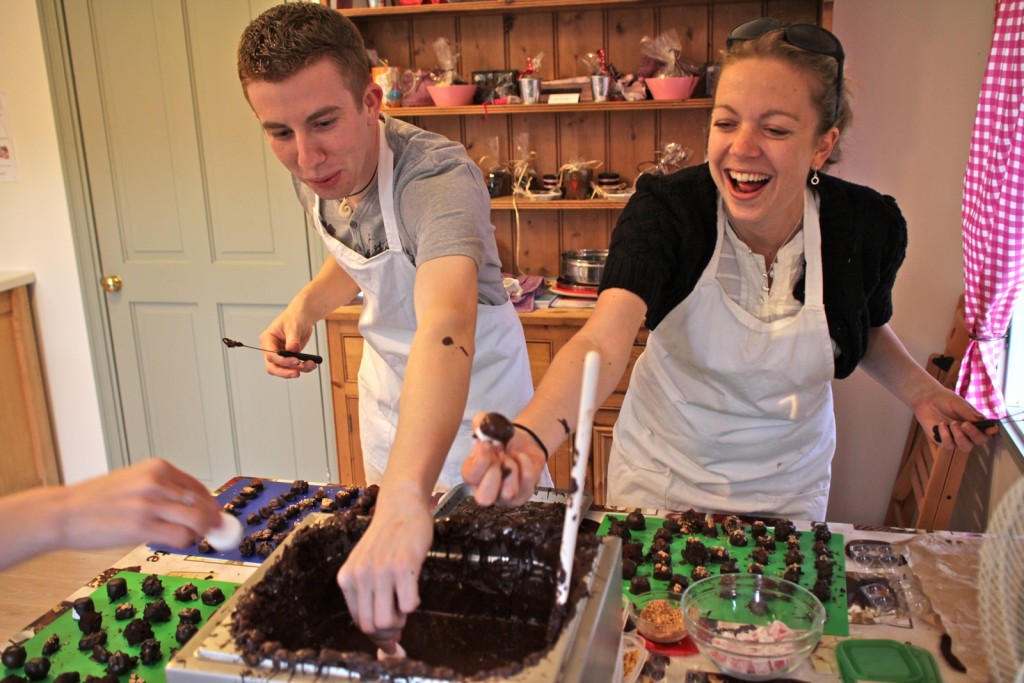 Enjoy two hours of fun and informative chocolate activity.  You will:
Work with quality Belgium chocolate
Make chocolates of varying fillings – such as caramels, honeycomb, fudge etc.
Learn a little about tempering chocolate
Design and pipe a lollipop
Dip various fillings into chocolate tank and hand finish each chocolate.
Enjoy a break with a treat.
Hear the bean to bar story – including tasting of cocoa beans
Take part in a fun chocolate tasting with small prize for the most knowledgeable
Package up chocolates in bags with pretty ribbons.
Have fun a get covered in a little chocolate!
For the true connoisseur why not upgrade to a DELUXE Adult Workshop!
What people have said:
"Delightful and delicious."  Maeve
"Thanks for a great and very tasty afternoon.  Will recommend it to anyone." Jane
"What a wonderful morning – choctastic!  Loved every moment, thank you so much."  Louise
"Loved it, fantastic fun.  I look forward to seeing peoples' expressions when they receive their gift bags." Dominique
"Thanks for a great morning.  You were welcoming and warm.  Every tiny detail has been thought out with great care."  Millie
"Fabulous fun!  A really great morning – every woman should come along for the therapeutic value alone!  Many thanks Dawn." Sandra

Booking information
Individuals, couples or groups can be accommodated.  For individuals and couples, we will aim to team you up with other chocolate fans to create a small group.
A group size is a minimum of four and maximum twelve.  Group bookings can be booked at a date and time to suit (diary permitting).
Workshops cost £50 per person.  For group bookings of six or more people, we offer a small discount and charge £45 per person.  A £10 per person deposit will be taken on confirmation of your booking, with the balance becoming due the day before your event.  This acts to secure your place at a workshop and is non-refundable, unless in the unlikely event that The Melting Pot is unable to deliver your workshop.
Please ring 07966 365515 to speak to Dawn or email dawn@makechocolates.co.uk to make an enquiry or use our online booking system.
Future events
If you would like to hear about forthcoming chocolate workshops, please sign up at the bottom of the page for our monthly chocolate newsletter.