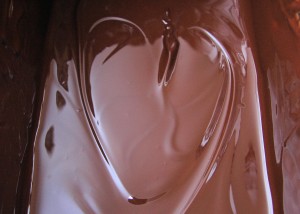 Chocolate got me started. I've definitely learned how to love, myself better mostly, and now I try and use chocolate to spread the love around. That might be at a workshop, helping you to boost your confidence or having a go at the running a business thing yourself.
Sometimes it's working out want you don't want…..
We all love chocolate, but for me, it was a love of the good brown stuff AND people that shaped the way The Melting Pot came into being.
I never wished to stand around the chocolate tanks making stuff to sell, stuck on my own and without the company of others. Despite the surname Fry, I had no previous experience of working with chocolate. I literally woke up one day and said to myself 'chocolate' and took things from there.
And realising what you do…….
I'm a hostess with the mostess and just love welcoming people; a drinks, a dinner party a cuppa, or a catch-up! It seemed a natural thing to want to start using chocolate workshop-style. It's great fun inviting others to come along and make some treats under my instructions.
That was over 10 years ago and now it feels the right time to start from chocolate with love.
Delightful tales from the chocolate tanks, food, drinks, experiences, the people, the past, the present and the future. If I love it, am intrigued or excited by it, it's going to be featured here. I'd love to feature good things from you too, so if you love to write and think it might fit in, then please drop me a line. The more the merrier I say.
Dawn xxx