Of course chocolate's on the menu, but usually as your favourite dessert.
Have you considered trying chocolate in all your dishes, both savoury and sweet?
Rabot 1745
Head to Borough Market in London and you will find this little chocolate gem of a restaurant.
Restaurant Rabot 1745 is part of the Hotel Chocolat empire, and in fact there is a shop and cafe beneath the restaurant if you just want a hot chocolate and a chocolate treat.
Book a table at the restaurant and you will find every course includes chocolate, even the mash! It's a wonderful experience and well worth a trip.
Read on to see what I chose from the menu…..
One for the Bucket List
The London restaurant is inspired by the original, located on the island of St Lucia in the Caribbean. You can visit the Rabot Estate, stay in the boutique hotel, book yourself and tree to bar experience, and eat in the restaurant.
It's definitely on my bucket list when the world opens up again. In the meantime, if you can make it to London you can try the next best thing.
Head to the Toilets!
If you want to get into the mood, then firstly head to the toilets. You can hear cicadas (piped into the loos) and (almost) imagine you are in a rather more exotic location.
A great first impression
Once you sit down you are greeted with a small plate of freshly roasted cacao beans from the St Lucia Estate. They are wonderful, and really set the tone of the evening.
The menu
I started with a bread and dip selection, that included cacao pesto & cocoa infused oil. It was really tasty.
Next I opted for some fish that included a cocoa nib crust. Chocolate is quite savoury in it's natural state, so it did not seem odd for the fish to have a cocoa addition at all.
We had to try the mash as we'd heard it talked about by others. A white chocolate-infused mash sounds quite disgusting, but i can confirm it was delicious.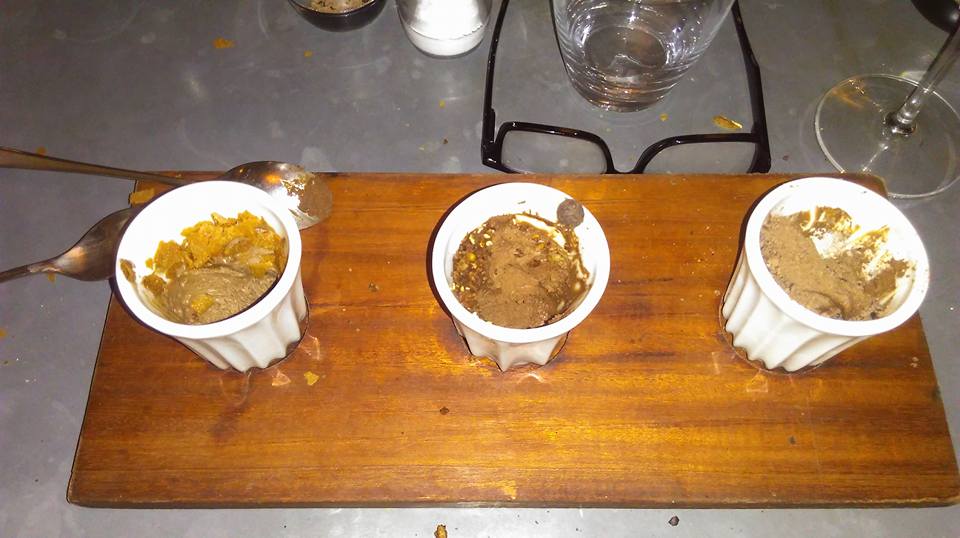 Of course, by the time you get to pudding, it's all very familiar territory, but I opted for a trio of mousse which showcased different strengths and styles of chocolate and it was truly decedent and another scrummy dish. Sorry that I took the picture after I'd eaten a bit too much, there definitely should have been a before shot!
The menu changes with the seasons, so why not take a look and see what you would choose!
If you decide to visit, don't forget to pop to my facebook page and tell us about your experience.
What's was on your chocolate menu?