It's a total honour for us to have some words of wisdom from my own personal chocolate hero and Master Chocolatier Paul A Young!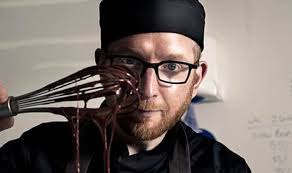 When I set up my business in 2009, I was lucky enough to go and enjoy a chocolate tasting with Paul at his original shop in Islington.
He was totally inspirational and hugely talented and knowledgeable. He was featured in the Financial Times round-up of the top eight chocolatiers in the world. I've followed him avidly ever since.
I'm the proud owner of a signed edition of his first book 'Adventures with Chocolate'. I've heard him talk at various events about his amazing flavour pairings and his multi-award-winning creations.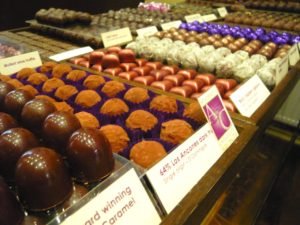 I can't visit London without a cheeky stop off at one of Paul's outlets. Rarely can I escape without an award-winning sea-salted caramel either (I'm sooo predictable!)
Paul now supplies this in jar form too! Read on for some great ideas of what to do if you are lucky enough to grab one!
Thank you so much Paul for taking a few moments from your extremely busy schedule and agreeing to answer some questions
Over to you……
How do you come up with the inspiration for your very original and amazing flavour pairings?
Paul: "I don't have a clear-cut answer for this as I work in a very sporadic and chaotic way at times. When I'm feeling creative ideas flow and it's quite easy, at busy hectic times I can barely think of anything new! But saying that, I've still not run out of ideas and new things to create. I also consult my team from time to time to get new ideas and opinions about my ideas."
Who is producing the best and most interesting chocolate bars at the moment?
Paul: "My list of must-have bars, Duffy Sheardown (Red star chocolate), Mast Brothers (Williamsburg, Brooklyn), Pacari ( Ecuador), Pump Street Bakery (Wood bridge), Dandelion ( San Francisco) and Dick Taylor (California) All amazing."
I'm such a huge fan (like most of your devotees) of your multi-award-winning sea-salted caramel. I know we can purchase a whole jar from your shops (if we manage to resist the urge to eat the whole lot with a spoon) what would you recommend we do for best results?
Paul: "It's incredibly versatile as it's a tart filling, a sauce, a dip, a spread and can be used in so many cakes, desserts, and ice cream. No limits to the creative uses. Mix it into whipped cream and serve with meringues, chopped chocolate, and chopped toasted hazelnuts for a salted caramel and hazelnut mess."
What's best to drink with our chocolate?
Paul: "No one answer, but I can tell you what I love; whisky, bourbon, Rare tea company Rooibos or Silvertip jasmine tea, Aqua Riva tequila, it's 100% pure agave and stunning with Madagascan chocolate."
There's talk of chocolate becoming scarcer and definitely more expensive, as the Eastern cultures get a taste for chocolate, and the world can only produce a finite amount. What are your predictions for the future of chocolate?
Paul: "The price will only rise and we all need to buy chocolate in a different way going forward. I buy some of my beans direct from the grower, this is called Direct Cacao and a new organisation has been formed to increase awareness. The result is the grower really will get the right price, the price to enable him/her to cultivate and increase their plantations.
Cheaper chocolate will become more expensive and be produced in a smaller size to compensate for the higher cacao prices, this is already happening.
We will all have to spend more on our chocolate but the finer our tastes become the better quality cocoa we desire, if it's bought and sold in the right way then this can only be of benefit."
About Paul A Young
Paul A Young is a groundbreaking and inspirational chocolatier who is at the forefront of the British chocolate scene. He trained as a chef before moving into the world of chocolate. Paul's passion for his craft and his cutting edge creativity have won him numerous awards including Best Sea Salted Caramel in the World two years running. Paul is now ranked amongst the world's best chocolatiers.
In 2014 paul.a.young fine chocolates became a bean-to-bar chocolate producer. Paul now a member of a select group of UK bean-to-bar chocolate makers (there are less than 10 throughout the country). His bars are also Europe's first whole bean chocolate bars, conching the shells as well as the nibs of the bean.
Paul's first book 'Adventures with Chocolate' won the World's Best Chocolate Book at the Gourmand Cookbook Awards in Paris. Paul regularly appears on television including on This Morning, Sunday Brunch, and Alan Titchmarsh, and has appeared as an expert on Gordon Ramsay's Ultimate Cookery Course, The Apprentice, and Mary Queen of Shops. He also regularly headlines at exhibitions including the Cake & Bake Show, Ideal Home Show, and Grand Designs Live. 
Thank you again Paul for your inspiration and words of wisdom on all things chocolate.
If you want to recreate my fav show-off chocolate desert from Paul, you must try his chocolate and pecan tart!
I hope it has inspired you to visit one of Paul's special chocolate shops the next time you are in London. You will be delighted and amazed at what you find and taste there!