In part two of my guide to hosting the best dinner parties, we are dealing with the big deal – the menu.
It's a bit dry – not a drink in sight. Please don't worry as tipples, and some great ideas for showing off (and a few cheats) are covered in part 3.
Here are my 7 tips for planning the best dinner party menu:
Canapes/nibbles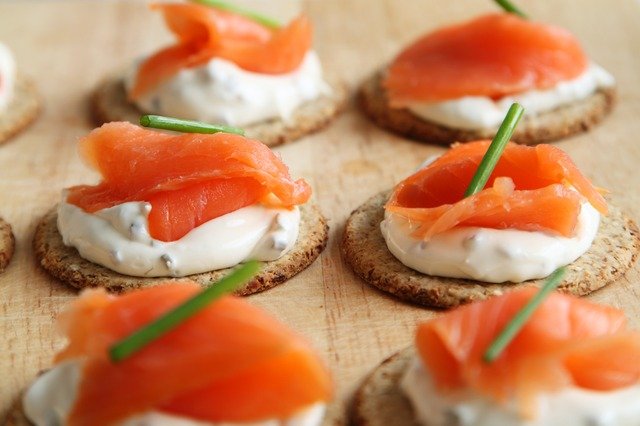 Push the boat out or open a posh bag of crisps and some nuts? This will depend on what (or if) you are doing for a starter.
If you are just opening some nice crisps, you could make a dip or two to serve with them to make nibbles a little more exciting.
I sometimes just do posher nibbles/canapes at this stage and go straight to the main at the table rather than a starter too.
What do I mean when I say a posh nibble?
Well, it can be easy like smoked salmon and cream cheese blinis (you can cheat on buying the blinis.
They are quite simple to make though if you want to be totally home-made).
We have a wonderful local baker that does the best crostini ever. I love to make toppings for these and hand these around with drinks. This might include homemade pesto, crab cocktail, smoked mackerel pate, or tapenade for example.
There are some really elegant ideas for canapes, and you can spend a lot of time making gorgeous bites of delight for your guests to enjoy. Your call – but it can set the tone for the evening.
Remember to keep things small so they can be popped in, in one bite.
Starters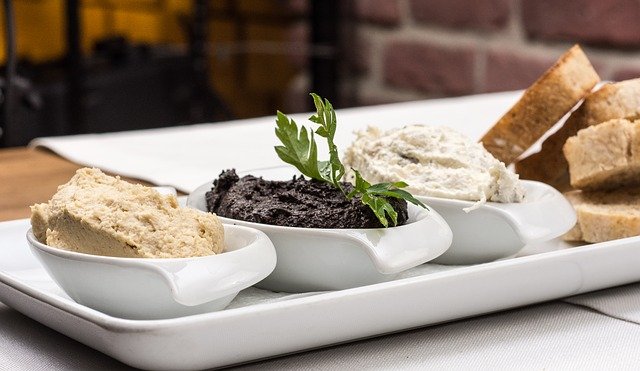 What's for main – this will determine what type of starter you want to create?
I love a fishy dishy.
I would probably avoid this if I'm having fish as a main (although I have been known to opt for double fish when ordering off a menu). I'm the daughter of a fish merchant from Billingsgate. What else would you expect?
Veggie is perfect as it tends to be lighter and will not likely clash with what's coming next. Beetroot, mushrooms, salads, fruits and cheese are all great. Don't get too cheesy if you have planned a cheese course.
Go a little daring with a souffle?
Get ahead with beautiful little tarts, terrines, or a pate?
You can make or buy some wonderful breads and simple dip into quality oil and vinegar.
I love to make dukka (a middle eastern nut and spice blend that is so simple to make and super-tasty).
You dip your bread in oil (go for something like rapeseed for this) then into your dukka.
All rather rustic and a bit of fun.
Mains
The star of the show.
Why not take the opportunity to splash out and go full-on farm-shop meat fest, or something special from the fishmonger?
It's an excuse to try that cut you would never add to the Sunday lunch. Go gourmet with your fish, which is a bit too extravagant for every day.
If this is the case, you will wish to work the rest of your menu around your very special main. Keep other courses lighter if this will ensure that the main doesn't get overwhelmed.
I still love to focus on what I can make ahead here, especially with the main course.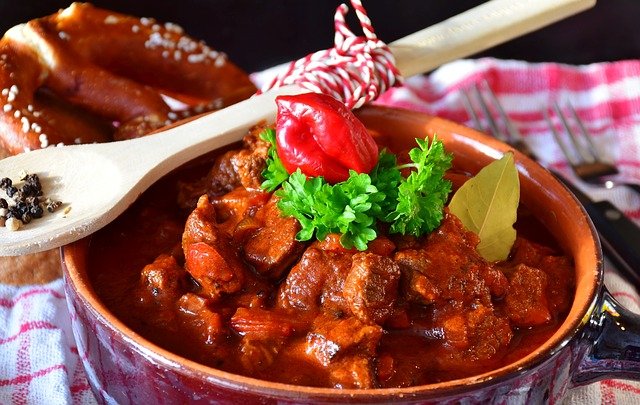 A posh fish pie, a wonderful stew or casserole, a large roast joint, a whole fish. I love to bring something big and beautiful to the table.
Your sides need to sing in harmony too. What goes well together? Think about colour and textures, what do you need on the plate? Will a decadent potato dish will make the grade? Remember less is more here.
If you are serving lots of other courses, you don't need lots of accompaniments too.
You may decide there will not be a star, but a whole host of supporting acts working wonderfully together – a buffet of delights?
If you need to factor in special dietary requirements – go to tip 7.
Puddings/desserts
If chocolate is your go-to pud, take a look at my top of the chocs for some inspiration. Let's face it, finish a meal with chocolate and your guests will love you forever.
Is pud your thing or not?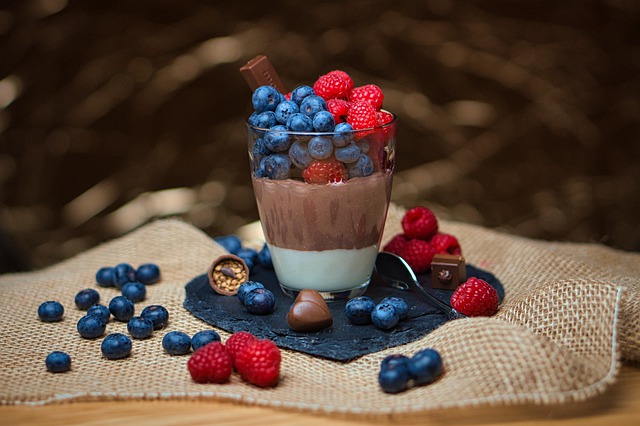 I would probably focus more on the other courses to be honest. I think you can legitimately cheat here too! More on this in the next instalment…..
Make sure the pud compliments everything else. What textures would work well with the rest of the meal? Have you had any pastry yet for example? Do you need something refreshing, something lighter and fruity perhaps?
You may wish to offer a choice. Have one or two big puds, or instead, a range of mini puds. A trio works well. Make sure each of the puds is a good contrast, nothing too samey.
If they are really good friends, you may find they bring a pud with them and you are totally off the hook.
Cheeseboard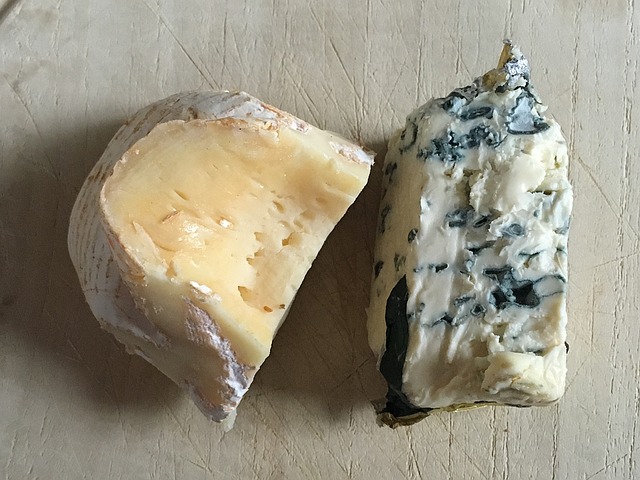 I LOVE CHEESE.
I also love a good cracker, some like a bit of bread. Don't forget the grapes, the celery, the chutney, chilli jam, or gorgeous quince paste (membrillo). Have you tried your cheese with cake – this is also delicious. You can get some interesting cake-flavour crackers. There are some really good quality crackers out there, don't skimp on these if you are showcasing some great cheese.
You can decide if you are being British or French in the order you serve your cheese course.
I find guests often nibble at cheese throughout the rest of the evening. I often serve cheese last and leave it in the middle of the table.
If you prefer 'du fromage' – then serve your cheese course before pudding.
It may be that you decide on only fruit and nuts and something nice with coffee, without a big pudding option if you are going all out on the cheese. Yum.
So if I'm being a generalist – I will ensure I have a blue, something soft and smelly, a bit of goat, and something hard like manchego, gruyere, or a really strong cheddar.
If you can, pop to a local deli and ask their advice about what wonderful cheese they have to recommend.
Coffee/teas & Petit fours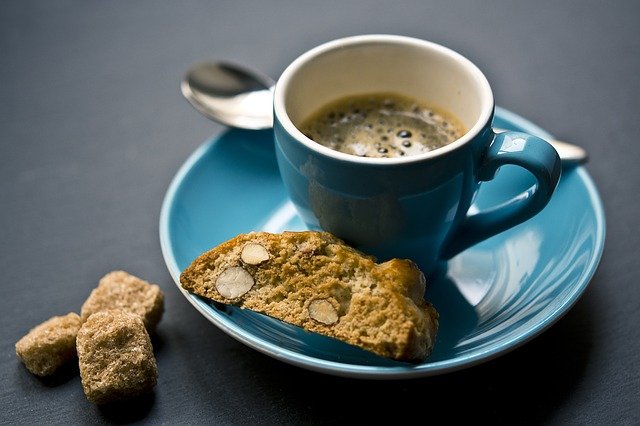 I'm partial to a decent coffee and like many have invested in a coffee machine at home. If offering espresso's these are so nice from the machine – full of wonderful crema. You might wish to go Italian-style and serve in a Moka pot, or a cafetiere. Please don't serve the instant stuff. After all your hard work in the kitchen, we don't want the coffee to let us down. Remember to grab some decaf, as some will not want caffeine that late in the evening.
Peppermint/jasmine/camomile teas are lovely and refreshing at the end of the meal. If mint is in season, pop some in your pot/individual cups and pour on boiling water – fresh mint tea is the best.
Even though everyone is full, you can't beat a little sweet treat with your coffee. Make some truffles, buy a posh box of chocolates or after-dinner mints to hand round.
The veggies (or vegans) are coming
We eat vegetarian food most of the time. At first, I wasn't overly confident and tended to 'cheat' a bit with veggie alternatives. Now I've learned to make the veggies the star of the show.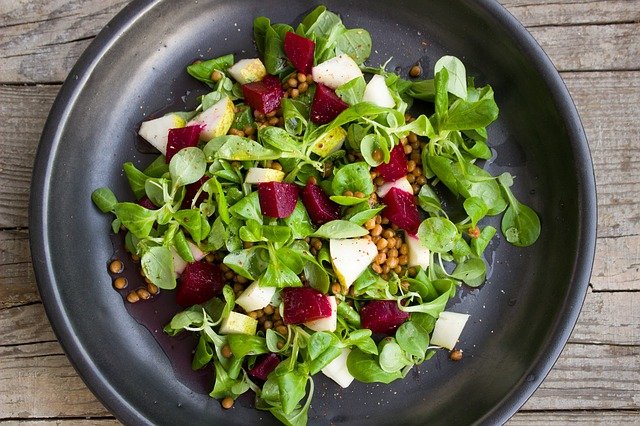 I often make a series of smaller veggie things to enjoy together. In the summer, I love to put up a range of salads for example. If I can, I will try and get a little adventurous with ingredients. The dressing can make or break a dish.
Vegan diets I do find a little more challenging because I can tend to panic about what I can't do. With a bit of planning and a calm head, there are many wonderful options you can make. There is no excuse not to find great recipes to cater for all dietary requirements and lifestyle choices.
You need to decide if you will serve up different menus or decide on courses that everyone can eat. (I did try to look up the etiquette for this but did not find a definite answer.) It's about making everyone comfortable, included, and providing a warm foodie welcome.
Check on dietary requirements, allergies, etc, and ask their advice if you are not sure.
Happy eating – here are 7 tips for creating the best dinner party menu:
If you have a fav dish you are dying to try, work the menu around that. Something that you want to do will jump out at you, be that starter, main, or pud. Once you have this element, you have something to work with.
Are you having nibbles or canapes?
What's for starter/main/pudding?
Any cheese, please?
Care for coffee and chocs?
Does everything flow, compliment, and go together – do you need to add any texture or colour to the menu?
If you are having trouble with inspiration, look at food bloggers and food magazines and get some ideas for what's on-trend!
In part one we got all your pre-dinner planning underway – now you have inspiration for your menu. Tune in for tipples, showing off, and cheats in the third and final part of my guide.
What are you putting on the menu – come and share on my Facebook page and let's get chatting about all things food!