My hubby, Jo Fry, runs beginner blacksmith courses at Standalone Farm in Letchworth Garden City.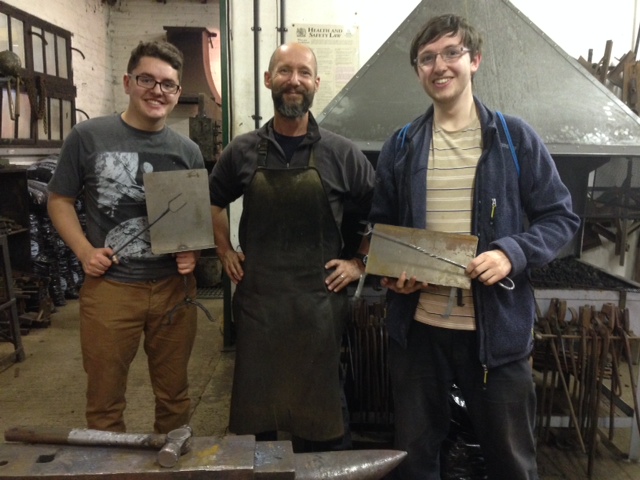 He started the courses on the back of my chocolate workshop experiences. Previously all his work had been commissions, such as gates and railings.
Someone asked him when he was going to start offering people the chance to come and play at the forge. Many years on, he now does courses only and this takes up all his time.
Here's what he had to say about those that sign up to Be a Blacksmith for a Day.
It's all in the Preparation
If you run events, you will know that so much of the hard work goes into the planning and preparation.
Before anyone arrives, I will do the necessary housekeeping (the forge gets quite grubby!), chop kindling, clean out the forge, and get all the equipment and materials ready.
Then it's time for a sneaky coffee before lighting the forge, about 10 mins before my budding blacksmiths are due.
At the required time, I pop off to the car park to collect my guests.
The Briefing
As you can imagine, the health and safety element at the outset of the day is most important when you are teaching people how to use the forge, working on an open fire with hot metal.
I teach everyone this – the order of importance:
Look after yourself
Look after your materials
Technique
The Generation Game
For those of a certain age, you will know what I mean. The demonstration by a seasoned pro makes everything look easy, and then you hand over and let each person have a go 😊
For each method or technique that we use I will demonstrate how it's done, then encourage the participants to get going. I always try and leave each person to find their own way. Although I've been a blacksmith since leaving school (a rather long time ago), I show them the way I would do things and say they are welcome to follow me or experiment a little if they want to.
Patience is really important, and rather than butt in I like to let people try and if necessary, fail, as that is the best way they are going to learn.
The Toasting Fork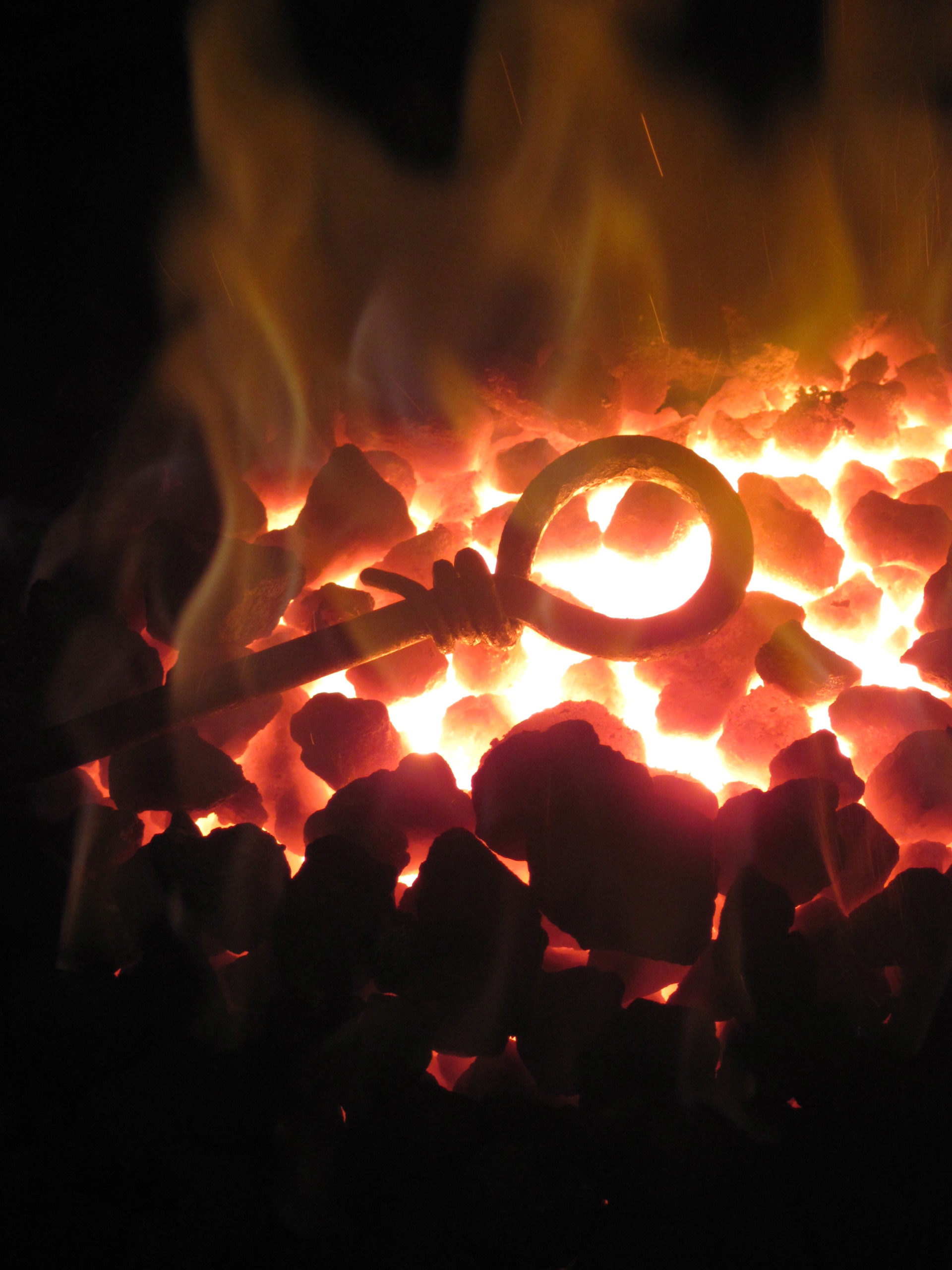 Everyone makes a toasting fork at the outset. It enables me to teach different techniques and assess skills (many go on to make other items on the day). It is also something useful to take home and enjoy – ideal for your marshmallows over the bonfire or for poking a loved one into action!
Firstly, they create a round taper on a round bar using only the hammer and anvil (we keep to traditional methods for the whole course).
Next, they form the hoop (handle) and wrap the taper around the shaft of the fork.
Then they make the prongs at the other end, starting by taking the round material and making this into a rectangle.
They split this rectangular section down the middle to form individual prongs.
The prongs are then opened out and each is formed into a square taper, finally, they use the scrolling tongs to shape each prong.
Listing out the method like this sounds rather quick and easy, however, managing the forge, and learning to work with the hammer and anvil will take each person a few hours. Some spend all day working on their toasting fork, others are quicker and go on to make other items.
It now takes me 15 mins to make a toasting fork, with just over 40 years of practice!
The rewards
Although I repeat this process with all my new attendees, it is always a pleasure to welcome each and every budding blacksmith to the forge and see them get stuck in.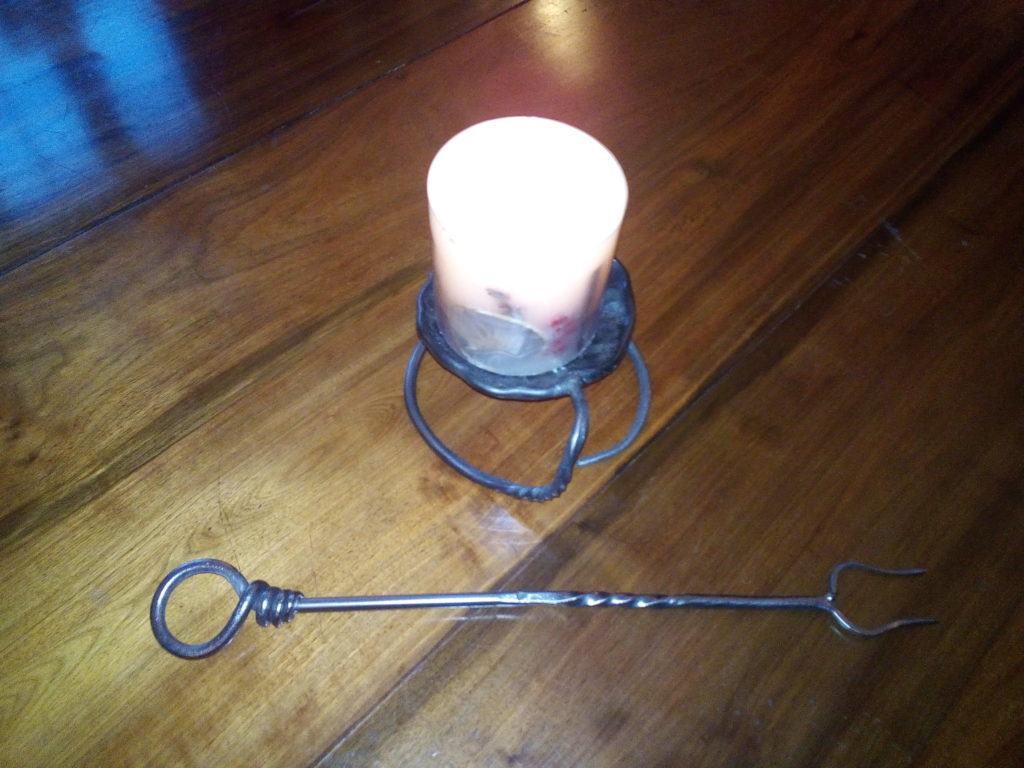 It's always interesting to meet people, work with different personalities and learn their stories. Each individual takes a different approach to the task and it's always fascinating for me to watch this. I might learn from them too.
To take a complete novice (usually, this is not something they have done before), and see them make something with their very own hands is my reward each time. Many believe they will not be able to succeed. I've never had anyone fail yet.
I give people the space to find their way, I make observations of course, but most importantly I want them to be happy with what they are producing and proud to have used their own hands to have created something they can keep and treasure.
Everyone can be a blacksmith for a day! Hope to see you at the forge very soon. Jo