I've just returned from a holiday on the Isle of Mull* in Scotland with family and friends.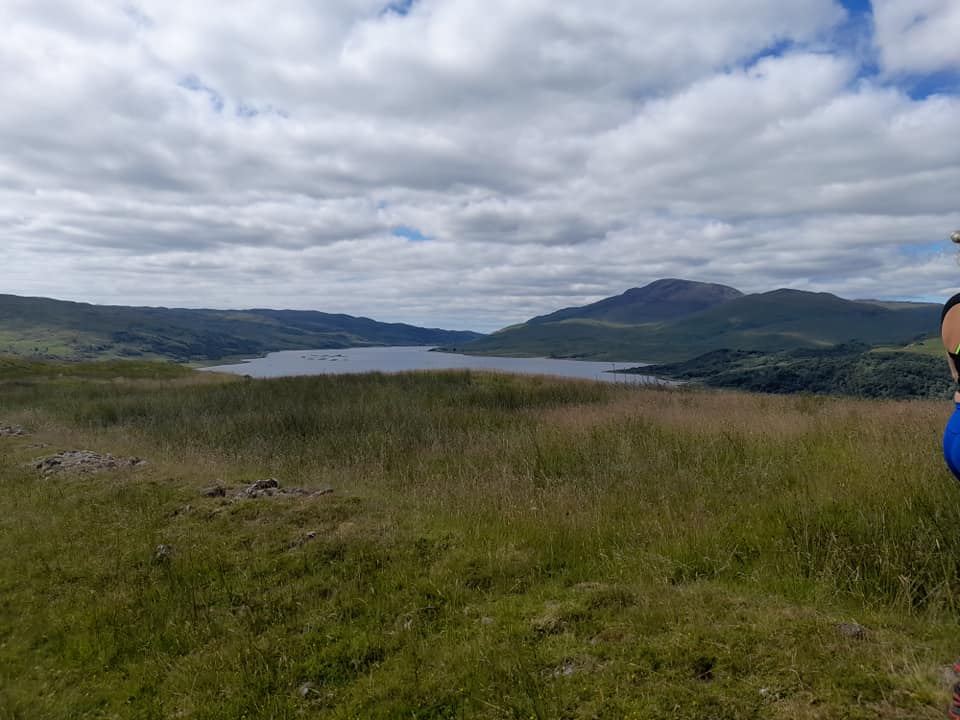 It was one of the best holidays we have enjoyed together for ages. After being delayed by a year, due to the pandemic we were all really up for an adventure and Mull did not disappoint.
Here are my 5 must do's in Mull:
Stay in a fabulous location
To be honest, this is not difficult on Mull. Everywhere is so beautiful, with stunning scenery, wonderful wildlife, and exceptional beaches.
You have the option to be completely off the beaten track (our preferred choice), or to stay somewhere where you can eat out or visit the odd shop (in and around Tobermory).
We were armed with anti-midge bracelets, spray, cream, and nets are we received dire warnings of non-stop rain and midges. In reality, we had great weather and I've seen more midges on my local dog walks in Hertfordshire than I ever experienced on Mull!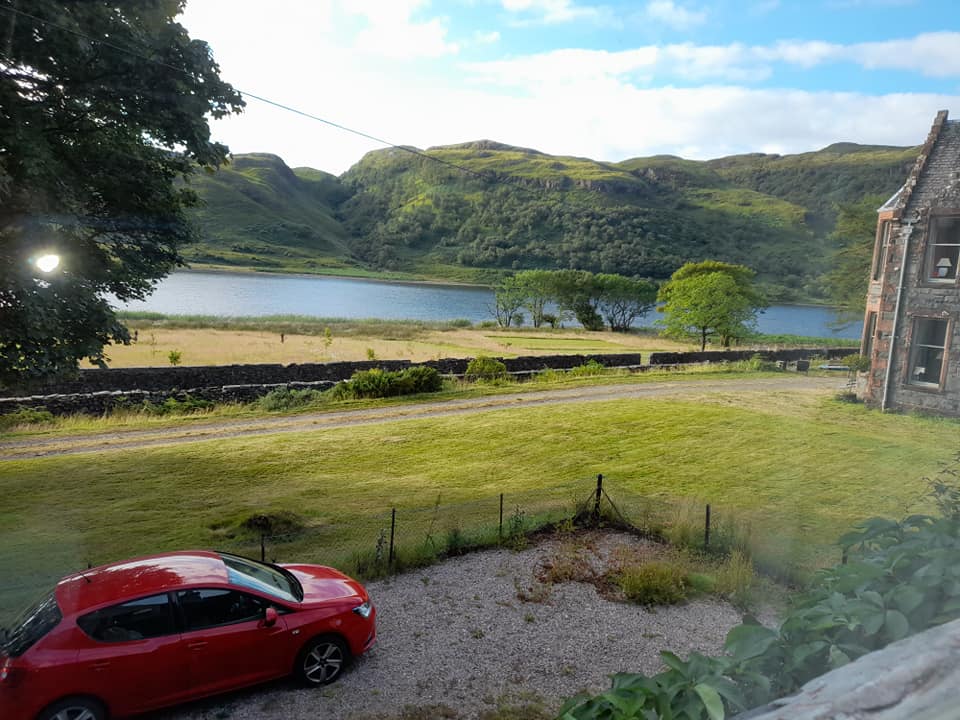 That may influence when you wish to visit. We were incredibly lucky with our good weather, as the area has a very high rainfall rate. The good weather must have kept the midges at bay. Win, win!
Our accommodation was booked through Isle of Mull Cottages and was fab.
Book a wildlife tour
Mull is all about the wildlife.
A friend recommended Nature Scotland's Wilderness Tour to us, so we booked a day out and it is such a worthwhile thing to do. As well as spotting some white-tailed eagles, golden eagles, and red deer, we were fascinated by the smaller natural details too.
Burrowing wasps, tiny carnivorous plants, butterflies and so much more.
Not only do you learn so much on the tour, but you will also then be tuned into seeing things for the rest of your stay.
On our travels around the island, we also managed to see many more birds, otters, and even some dolphins from the ferry on the way home.
It's great to invest in a decent pair of binoculars, they will be well used!
Don your walking boots
You may wish to climb a mountain, Mull has one official Munro (mountain), Ben More, but many other wonderful climbing options too.
If you take a drive to Fionnphort you can grab a foot ferry to Iona. It is only 1.5 miles wide by 3 miles long. Iona is known as being 'The Cradle of Christianity' in Scotland with its much-visited Abbey and Nunnery.
Wonderful walks and beaches are on offer here too.
Maybe ditching your walking boots at this point, you can wander along a deserted beach. We had a beach to ourselves at one point, but even if others are there too, it will never be busy.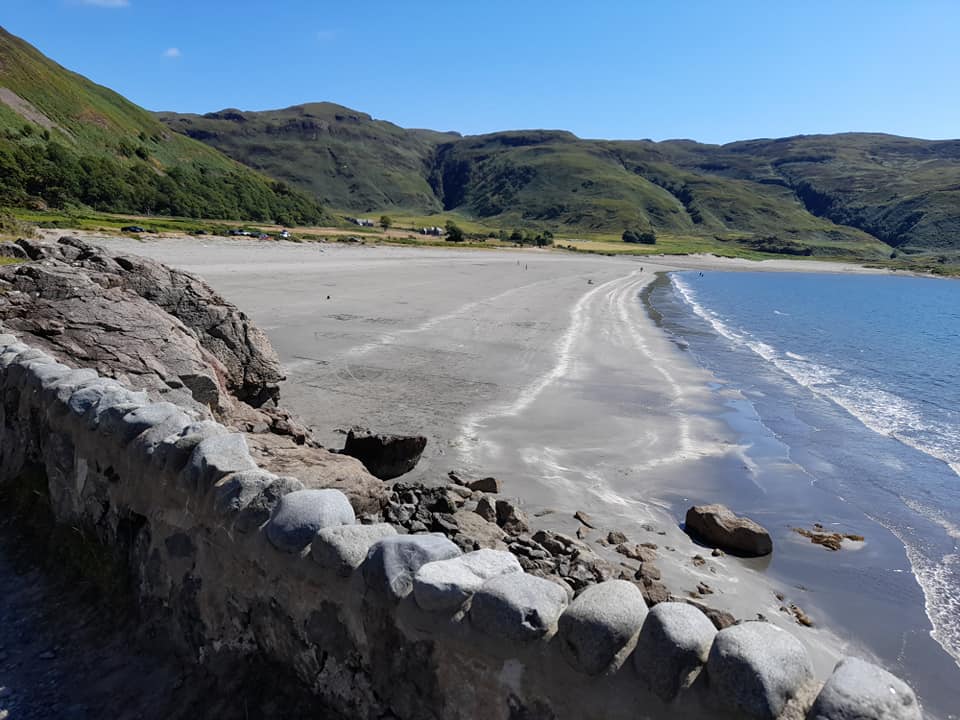 Most of us went swimming too. Our holiday cottage was based next to a freshwater loch. I enjoy a bit of wild swimming and presumed this would be a challenging option due to the coldness of the water. It was one of the warmest wild swims I'd ever enjoyed!
The sea loch was a little more bracing (we went swimming from Laggan Sands), but still manageable and refreshing!
Enjoy some seafood
There was a mussel farm not too far from our house. It is operated by an honesty box, so if you got the urge to eat mussels at any point, you could drive up, pop your pennies in and grab your mussels to munch. They were the freshest, sweetest, tasty morsels!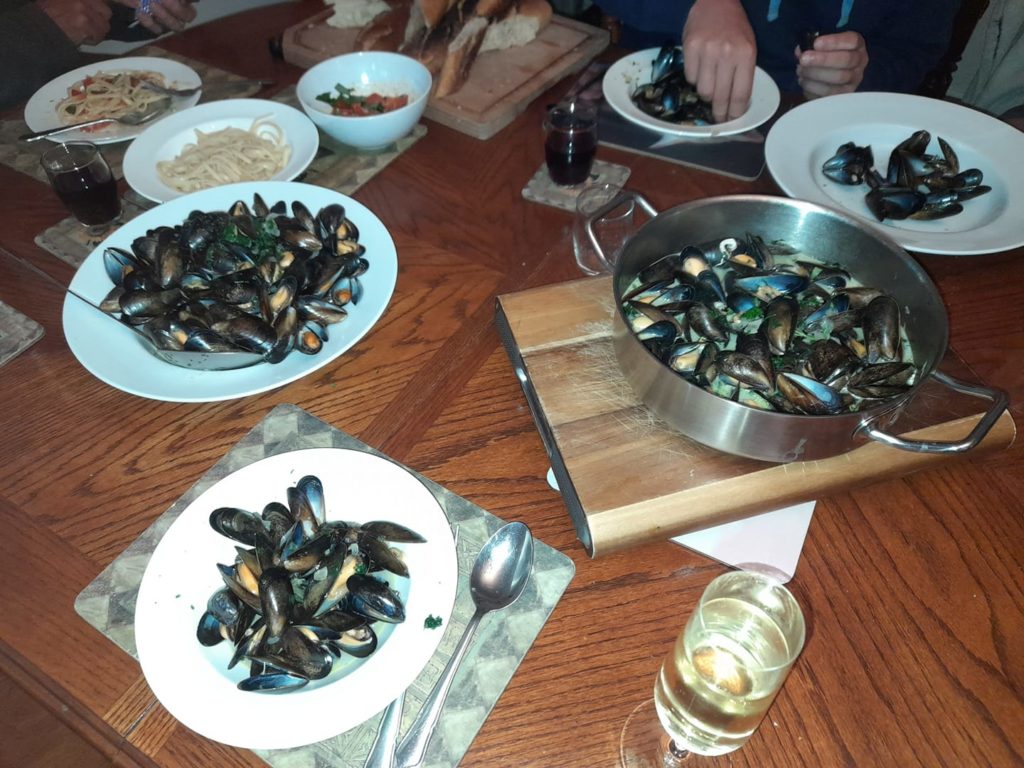 We also managed to order some langoustines, which we got straight from the boat as they were landed.
I can honestly say I would prefer a chef to prepare them for me. However, it was down to us, and once prepped we popped ours on the bbq. They tasted wonderful, so sweet again and obviously as fresh as it's possible to be.
In Tobermory, we enjoyed some fish and chips on the harbour. We actually saw the fish being delivered to the café, just a bit before we ordered.
Totally delicious. There is a real fresh theme here!
We didn't manage to eat out at any restaurants – they were a bit too far of a drive from us.
We did enjoy some lovely cakes (and wonderful farm shop meats) from a local cafe.
Take what you need with you
There are a couple of small local shops on the island – and a small supermarket in Tobermory. As we were an hour's drive from there, we needed to take all the food and drink that we needed for our week's holiday.
Talking of driving, the roads are an experience in their own right. Singletrack roads mostly with passing places – sometimes it could be quite challenging depending on who you met coming the other way!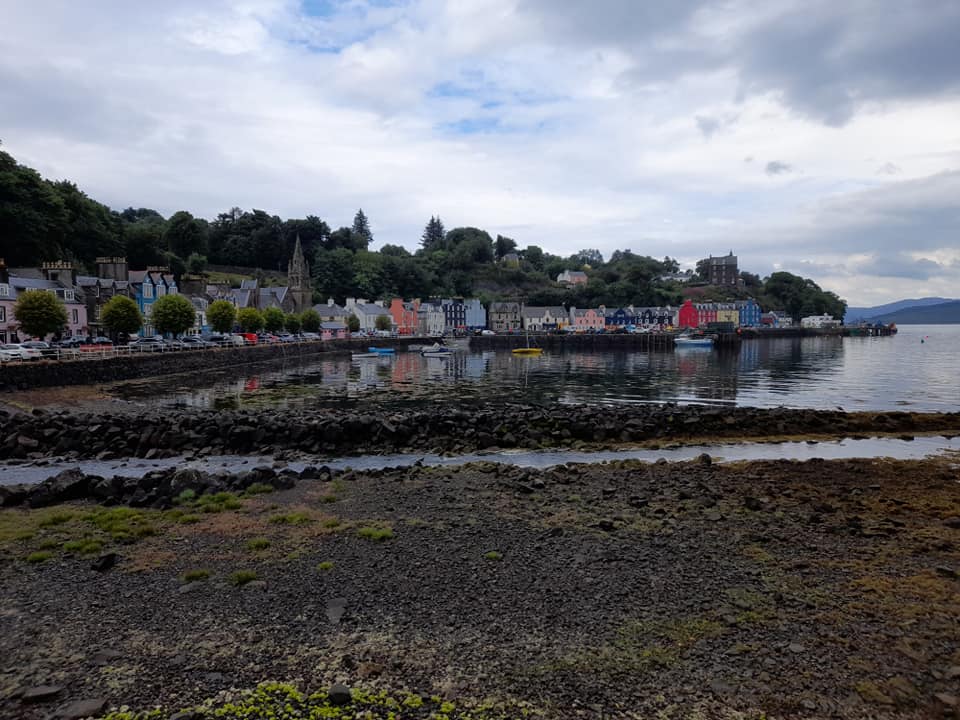 It's quite a feat doing a shopping list for a large household of hungry people. All the meals and snacks required. How many bottles of wine or gin and tonics are you going to need?
All important questions. Allow plenty of planning time.
I would not wish to put you off supporting local businesses as this is a must, but you will not be able to do a giant shop – so make sure you bring a decent general shop at least.
There are some cafes, hotels, and the odd pub here and there – but we were surprised how little was on offer. This is a little different in Tobermory with several eateries and gift shops on offer too here.
I even found a chocolate shop in Tobermory and have bought home some dark chocolate whiskey squares to try!
You may wish to take some chocolate with you or make your own treats.
I'm sure this would not be a holiday that would suit everyone – but if you do fancy a trip, I hope my 5 must do's in Mull will provide some inspiration.
Come and tell me your tips over on my Facebook page.
*The Isle of Mull or just Mull is the second-largest island of the Inner Hebrides and lies off the west coast of Scotland in the council area of Argyll and Bute. Covering 875.35 square kilometres, Mull is the fourth-largest island in Scotland – and also in the United Kingdom as a whole. (Wikipedia)