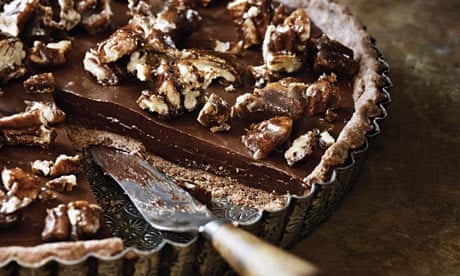 Ingredients
For the chocolate pastry
175g butter
75g golden caster sugar
2 egg yolks
250g plain flour
20g cocoa powder
For the filling
200g Madagascan 64% dark chocolate, broken into pieces 200ml whipping or double cream (whipping cream gives a slightly lighter texture)
200g light muscovado sugar
10g Maldon sea salt
For the topping
100g caster sugar
1 teaspoon Maldon sea salt
100g pecan halves
Method
For the pastry; cream together the butter and sugar with a wooden spoon until light and fluffy. Add the egg yolks and 35ml water and mix well. Then add the flour and cocoa powder gradually until a paste is formed. (If you prefer, this can all be done in a mixer or food processor.) Wrap the pastry clingfilm and pop in the fridge for an hour.
Roll out the pastry until it is about 5cm bigger than your tart tin (your tin should be 24 cm diameter by 2.5cm deep) – sprinkle the surface with flour to avoid it sticking! Line your tin with the pastry, then pop it back in the fridge for another 15 minutes.
Preheat your oven to 180°C. Blind bake your pastry for 20 mins (line the tart with baking parchment and add your baking beans). Lift out the beans and bake for a further 5 + minutes, until the base is dry. Allow to cool.
For the filling; put the chocolate, sugar and sea-salt in a glass bowl – place it over a pan simmering water, ensuring the bowl is not touching the water, and melt together, stirring until glossy and thick. Pour onto your pastry base and once cooled, pop back in the fridge for two more hours.
For the caramelised nut topping; heat a saucepan until warm and add the sugar, gradually mixing until you have a golden liquid caramel. Add the salt, give it a good stir. Pour in the pecans and, mixing thoroughly, quickly pour the mixture onto a parchment sheet and spread out. Allow to cool completely, then break or chop up the nuts into shards or chunky pieces to sprinkle over the tart.
Dawn Says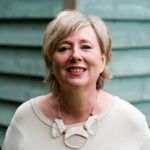 This is so rich, and so amazing, making your taste buds really zing. If you want to offer a bit of a show-off dessert and really please your chocoholic friends – this is the pudding for you. It needs a lot of cooling time, so you may wish to start the day before, making the pastry element ahead of the rest.
Inspired by the recipe Sea-Salted Chocolate and Pecan Tart from 'Adventures with Chocolate' by Paul A Young
This is number one is my top of the chocs recipes to make at home. For more inspiration pop to my facebook page.
If you love chocolate, have you ever considered what it might be like to make chocolate your business?