We love a bit of camping in our family and have travelled all over Europe with our trusty tent.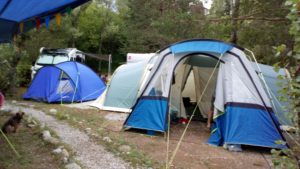 It was one of the main reasons I started my business.
I wanted to be able to take the summer holidays off and enjoy them with the children. Camping was an affordable and fun activity that made this possible. We didn't quite achieve the whole six weeks in our tent, we did have regular three or four-week holidays to wonderful locations. It has created some fab family memories.
We still love camping!
Here are 7 reasons to try camping (and some of my fav campsites):
You can enjoy nature at it's best
The top of the list has to be the campsite setting. You are in nature. It's totally good for you to experience living outside. Enjoying a slower pace of life in wonderful surroundings with all that fresh air. Even if it's raining, you can sit inside listening to the rain on the tent, playing cards, or reading your book.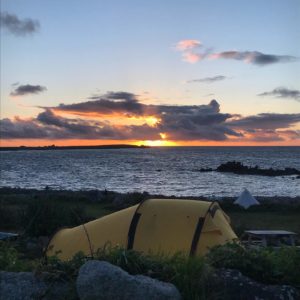 Sunrise, sunsets, watching the wildlife – what's not to love about that?
Favourite spot for a glorious sunset – St Agnes, Isle of Scilly – Troytown Campsite.
It's affordable
Admittedly you need to get your kit together and this can be a bit of an investment at the outset. We opted for a huge tent to accommodate our family of five. We each had a bedroom (more than we had at home at the time) and a huge living space for those rainy moments.
It has given us 10 years of fun and memories (so far) so it was well worth it.
You can stay in wonderful locations, for a fraction of the cost of a holiday rental. The shores of Lake Garda, the mountains in Austria, stunning beaches in Spain!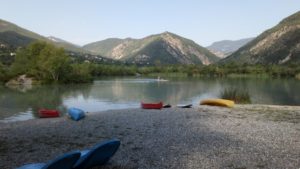 The best value campsite in a wonderful setting goes to Camping Le Brec in Entrevaux (South of France).
A natural lake, with a cool bar, swimming, free boats, mountains all around and very reasonably priced!
It's worth the extra effort
Now, all that wonderfulness comes at the cost of a little more effort.
You need to plan where and when you want to go. In normal times, I will spend January pouring through books and choosing my favourite campsites. Then it's plotting a route, trying to take in all those things we want to visit/see/do.
Getting all your 'stuff' together takes some effort too.
We have boxes of kit stored in our shed now, so we just take it out, give it a quick check, and pop it in the car.
A checklist is a great idea.
We swear by the people that are behind Cool Camping. Such accurate descriptions of sites, really well-researched, in great locations. There are helpful descriptions of the vibe and energy of the site included too. Something for everyone either on their website or in their guide books (I use both).
Although there are lots of more expensive Glamping sites covered now, you can still find affordable gems!
Best books/website: Cool Camping
Enjoy the community spirit
A friend once quoted a wonderful line:
"If everyone could camp together, the world would be a better place."
I couldn't agree more.
There is such a friendly, community spirit on a campsite. People wandering by, stopping for a chat. Sharing bathroom facilities and chatting while brushing your teeth (that takes some practice!)
We got chatting to a family on one campsite and he was a real gin enthusiast. He revealed his extensive gin bar and send us some samples over one evening. It was just like visiting the cocktail bar, with nice glasses, ice, and all the trimmings!
Most campsites will organise some activities like volleyball, boules, pizza nights, etc. It's fun and friendly and you can mix in as much or as little as you want.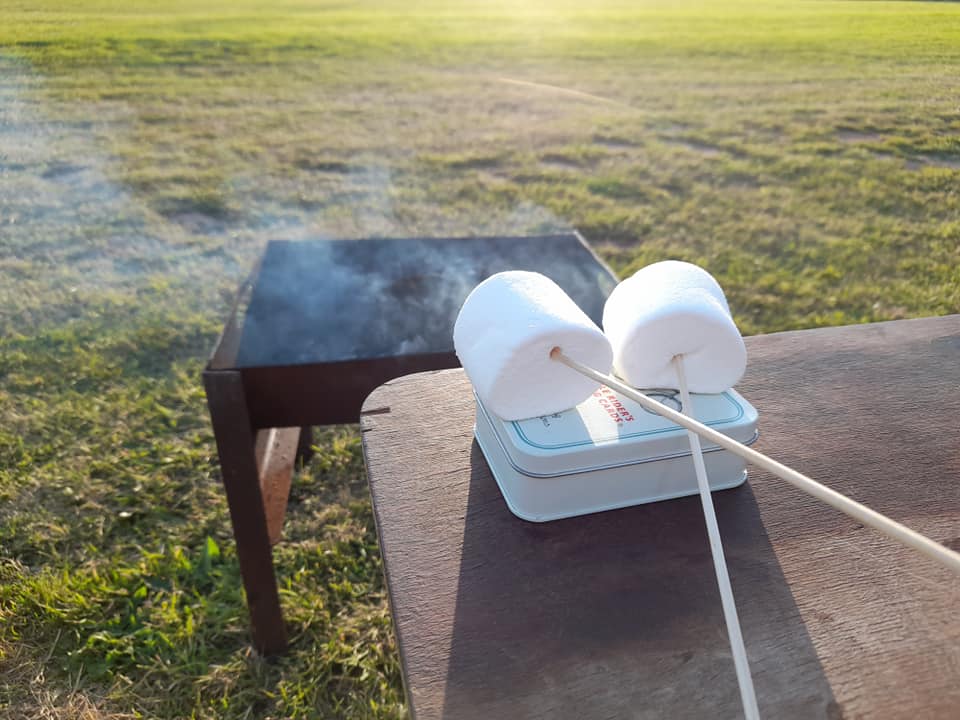 Camping is a real leveller.
Everyone is the same and that's just great.
Most friendly campsite:
Parke Farm Campsite, Pembrokeshire (free tea/coffee and marshmallows delivered each night)  
The world is your oyster
You pack up the car, and you take off and you can go wherever you are willing and able to drive to.
We've visited sites in the UK, France, Germany, Austria, The Netherlands, Spain. When you drive to your destination you get a sense of your bearings, the accessibility of other countries and cultures. When you jump on a plane and arrive at your destination, you just don't get the same sense of where you are in the world.
We add the odd hotel stop en route for the longer journeys. You appreciate the luxury of your hotel room for the odd night here and there. We love a quirky hotel stop and try and avoid chains where possible.
Saying that some of the campsites we have stayed in have bathrooms posher than most hotels.
The prize for this has to go to a wonderful site in Austria, Grubhof. The gorgeous site is surrounded by mountains (lift passes up to explore the mountains are free) and with stylish, private bathrooms included too.
Campfire cooking tastes great
Nothing tastes as good as campfire-cooked food!
We haven't worked out why, but cooking outside is a lovely experience, and whatever you make it seems to taste better.
We tend to go for one-pot wonders. When you have only two gas rings, you need to get a little creative when you are feeding a crowd.
There are some fab camping cookbooks you can pop into your kit too.
A great tip is to make some treats before you leave so that you have some lovely cakes and bakes to hand.
I have some wonderful chocolate recipes to inspire you.
Spend quality time together
There's plenty of space, so you can invite your family or friends along too. The great thing is you can enjoy each other's company and have a lovely sociable time. Eating, drinking, and playing together but then head to your tent for your own space.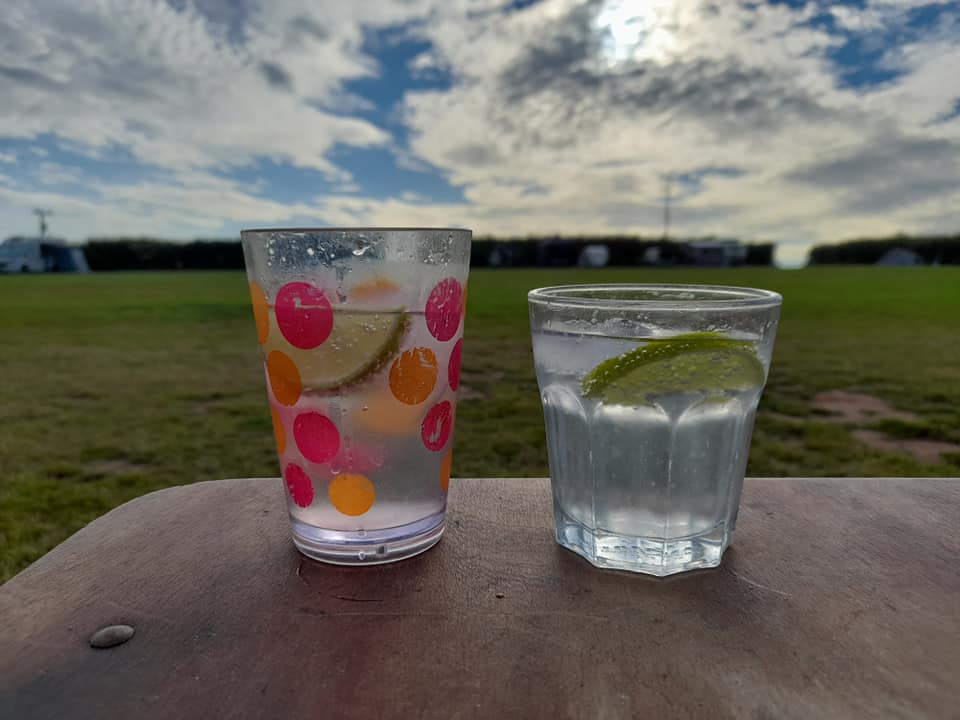 Our great friends have been our camping buddies for many years. We cook independently (there are just too many of us) but time things just right that we can all sit and eat together.
Cheers to that
You miss the outdoors when you get home, all that fresh air is so refreshing. Having your own bathroom and being back in your bed is very welcome too. It makes you appreciate what you might take for granted otherwise!
I may have only come up with a list of 7 reasons, but the good people over at Sports Fitness Adviser have come up with 20 benefits, including some top tips for beginners.
Is there anything you'd add to the list? Pop over to Facebook and share your top tips.
Happy Camping.