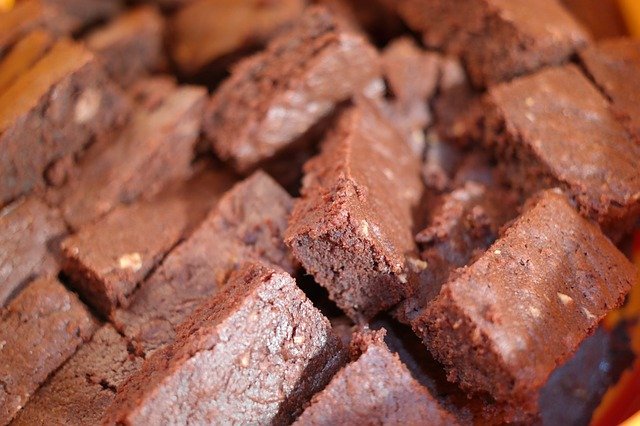 Ingredients
375g soft unsalted butter
375g dark chocolate
6 large eggs
1 tablespoon vanilla extract
500g caster sugar
225g plain flour
1 teaspoon salt
300g chopped walnuts (in original recipe – I replace these with more chocolate!)
Method
Preheat the oven to 180°C
Line your tin with baking paper (approx 33 x 23 x 5 1/2cm for this quantity).
Melt the butter and chocolate together on low heat, in a large heavy-based saucepan. Give it a stir now and again and once melted, remove from the heat to cool.
In another bowl beat the eggs with the sugar and vanilla – set aside.
Measure your flour in (yet) another bowl and add the salt.
Pouring the melted chocolate mixture in a slow and steady stream, beat into the eggs and sugar mixture (make sure the chocolate has cooled enough before you do this element)!
Now add your flour and stir to mix.
At this point, I mix it up a bit. I don't add nuts to my brownies (I love them but the rest of the family prefer more chocolate) if you were using the nuts you would add them now!
Try adding 100-200g of chocolate buttons instead of nuts (depending on the quantity you are making). This might be white, caramel, or ruby chocolate. Dried cranberries and white chocolate are good at Christmas.
Why not try a coffee, cardamom, and caramel combo – it's delicious?
Dissolve a heaped teaspoon of coffee granules in a tablespoon of hot water (or use coffee essence to taste). Add this to the melted chocolate mixture when you remove it from the heat. Split 4-5 cardamom pods and extract the seeds, grind the seeds in a pestle and mortar and add with the flour and 100g of caramel chocolate buttons.
Combine well and then pour into the lined tin.
Bake for about 25 minutes. I usually check after around 20 mins – if you bake them too long, they lose the gooey essence that makes them brownies.
When it's ready, the top should be dried to a paler brown crackle (they will cook a little more as they cool). Pop on a cooling rack and enjoy the smell that fills the kitchen.
Dawn Says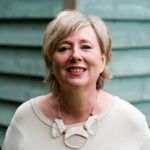 I never make this much – I usually halve the recipe. Sometimes I even do a third – otherwise, I'll eat them all. I've taken to writing the different quantities in my cookbooks. I don't have to keep working the difference out every time!
Inspired by Nigella Lawson's brownie recipe as appears in 'How to be a Domestic Goddess.'
This is number four in my top of the chocs recipes to make at home. For more inspiration pop to my facebook page.
If you love chocolate, have you ever considered what it might be like to make chocolate your business?