I usually tell everyone about my love of chocolate and people, I just put the two together and created The Melting Pot.
Of course, my reasons for starting run far deeper than that.
Here's why I really started my business:
I took a job to fit around the needs of the family and it was driving me mad. It was something beneath my skill set for the part-time element and often left me unfulfilled and bored. Trying hard to turn it into something else wasn't working, which just added to my frustration.
Life's too short
My Dad became ill with serious cancer, followed by my husband in the same year. The next months were a blur of sitting by hospital beds and supporting them both. It was a tough time, with both seriously ill at the same time and three young children to support too. Driving around the M25 day after day, spending hours at a bedside, sitting watching loved ones suffer, and getting home and trying to be something for the kids. It took its toll.
Eventually, I went back to work but being in that environment was the final straw for me. How could I continue to work in something that didn't serve me when life was so short and precarious?
The only way is up
After a gruelling time and against the odds, we received good news, both my dad and hubby survived and are still well to this day, touch wood.
However, I now found myself teary and upset a lot of the time. The past had taken its toll. Not only did I not want to be in my job, but I was also not coping that well at all. It was hard to believe that everyone was going to be OK, even though the news was good, and I certainly didn't feel OK myself.
One day there was a passing comment made in the office. It typified everything about what was not going to happen for me in my current role. 
I found myself in the toilet crying and knew something had to change.
The lightbulb moment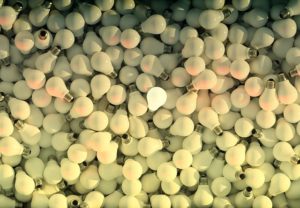 It was getting to that really low point, that kicked in some form of survival instinct and finally got me to tune into my need to reinvent myself. Time to start my own business, be my own boss, set my own agenda…..but what could I do?
I did literally have a lightbulb moment – I knew my business had to be with people and some sort of food and one day I just went, "chocolate, that's it". Running chocolate workshops felt right; I had created my new business idea, now to make it happen.
Redundancy Cheer
Redundancy is no joke; I'm not trying to make light of how awful it feels for some to know that they are going to lose their job and security. For me, it was a cheery and fearful moment. I was called into the office to be told that my job was being made redundant (it was the height of a recession in 2009). My response was 'hurrah' as it meant I could focus on my dream. I'd not been there long enough to qualify for redundancy pay, but it did give me the opportunity to start creating a chocolate workshop business as there was no job to full back on. This was the catalyst I really needed to make it a reality.
I left the job in June 2009 and launched The Melting Pot in September 2009.
Why stop at workshops
After many years since I took the plunge, I still offer chocolate workshops and now so much more….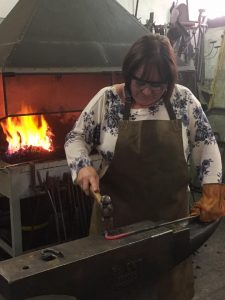 So many courses and bespoke events have been created for clients – I say yes, then work out how I'm going to make it work.  
My hubby was inspired too, and for some years has been offering 'be a blacksmith for a day' experiences from his forge. We've even collaborated and created 'hot chocolate' team days.
I've documented everything I did to create a 'business in a chocolate box' and sell this to others wishing to run chocolate workshops where they live.  
New Dawn start-up business training came out of mentoring and supporting those starting a chocolate workshop business. Not everyone wants to work with chocolate – can you believe that?
Lack of confidence seemed to stop the people I met from starting something, they didn't believe they could do it. If I could surely others could too? A free creating magic challenge and building confidence course were born.
Who knows what might be next…..
What I'd like to pass on
Don't stay working in something that makes you unhappy. You can and deserve to be happier at work. If you find yourself having a cry in the toilet, please make a change.
Be brave – stretching your comfort zone will feel uncomfortable at first but the rewards are enormous.
Choose love – firstly learn to love yourself properly, this is so important if you want to support all those that are so important to you too. There is nothing like working for yourself to really explore you and your capabilities.
There it is, why I started my own business. I love being my own boss, flexible, challenging, interesting and you will be so surprised at what you will learn about yourself.