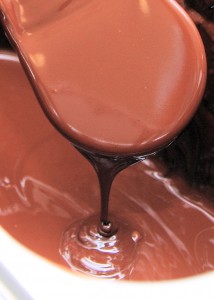 I was intending to call this blog 'A Day in the Life of a Chocolatier' having previously penned 'A Day in the Life of a Blacksmith' about my hubby. That doesn't really cut it for what I do. I am a chocolatier (how fab it feels to say that) but I don't make chocolates to sell, I offer workshops and create experiences in chocolate.
So, instead, here's a day in my chocolate shoes……
Daily Rituals
As a business owner, you need to have daily disciplines! Every morning, over coffee, I'll go over emails and messages and get back to people.
I might be processing bookings (yippee), which I do for blacksmithing and chocolate, or answering questions and queries. A bit of marketing, writing, and/or social media, and any admin that needs seeing to will also be on the agenda.
I check back in throughout the day (except when I'm delivering a workshop) to ensure I maintain rapid responses. If someone has decided they are interested in what we have to offer, I try and get back to them as soon as possible, no one wants to be left hanging when they have decided on something exciting that they are interested in doing! It's common sense of course, but the amount of time we have won business because I got back to people quicker than the competition has been mentioned many times to me. Why would anyone want to leave business on the table?
Planning, planning, planning
The chocolate tanks take a couple of days to really come up to temperature. This involves melting a few kilos of chocolate callets to a certain point so it's ready for me to temper ahead of a workshop.
I need to keep a constant eye on the stock to ensure I have all the relevant ingredients and materials and order as necessary. Aprons need to be laundered and the summerhouse, mats, and utensils cleaned and ready for guests.
Everything has to be done and planned in advance, I quite like this element of my business, and find it fairly straightforward, if you are someone that struggles to stay on top you may need to find some tools to help and plot reminders to your calendar.
Prepping for a workshop
People will come along and enjoy a couple of hours of chocolate fun, but as mentioned above, a lot goes into the planning and preparation before you arrive.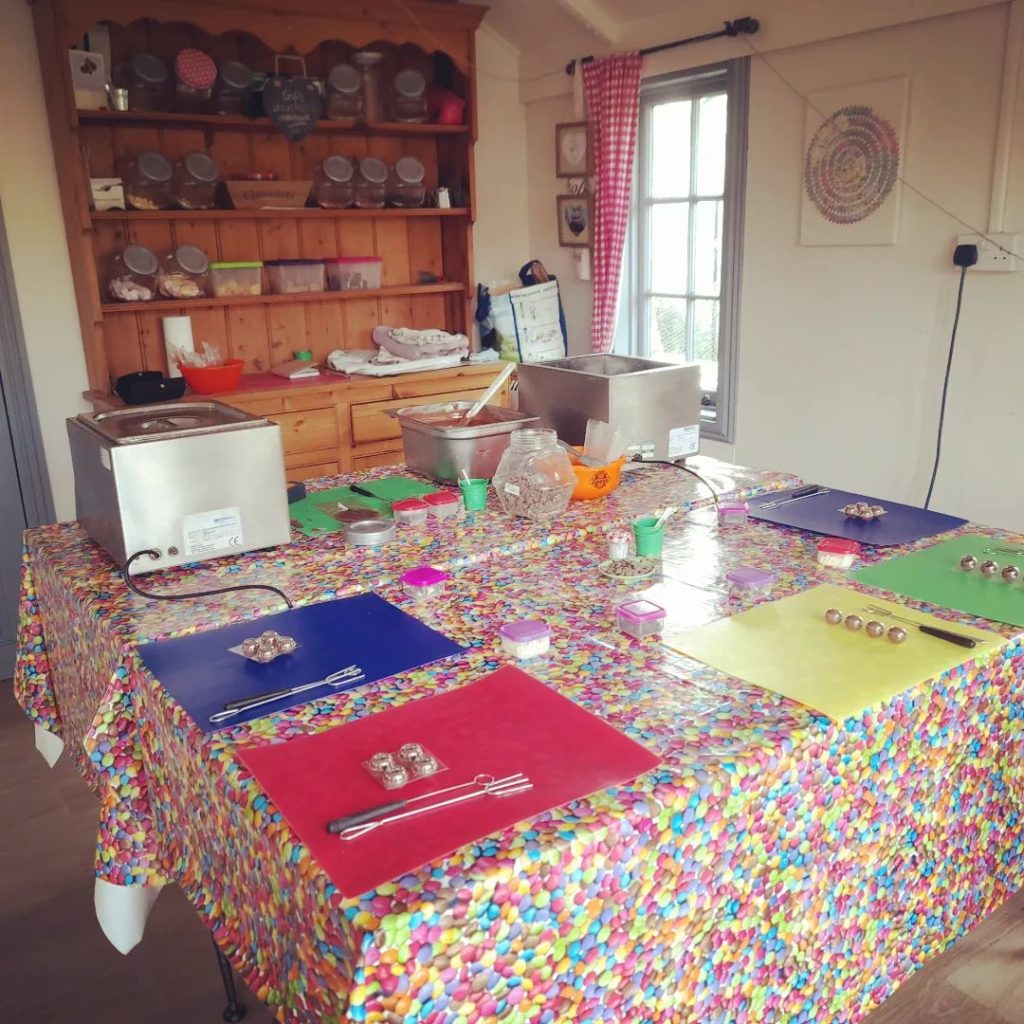 Experience has taught me to do as much prep as you can do beforehand, this will lead to a smooth and seamless workshop! This process is now down to a fine art! I actually enjoy counting out all the goodies you are going to dip into the chocolate and ensuring everything is ready and on hand for your magical chocolate time. Prep is always done the day before a group arrives, I prefer to go to bed knowing I'm ready for you all. If something else crops up, then I know I have my workshop all ready to receive my guests, whatever else I might be called to do.
Half an hour before my group arrives, I will head to the summerhouse and start tempering the chocolate.
Delivering a workshop
This is the bit I love the most – meeting you and having fun with chocolate together. All sorts of people walk through my door and it's an honour and privilege to work with you and enjoy your company for a couple of hours.
Instead of going through each element of what we get up to at a workshop, you can pop and see for yourself.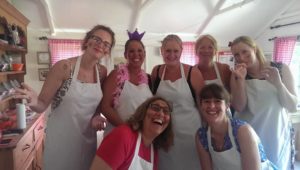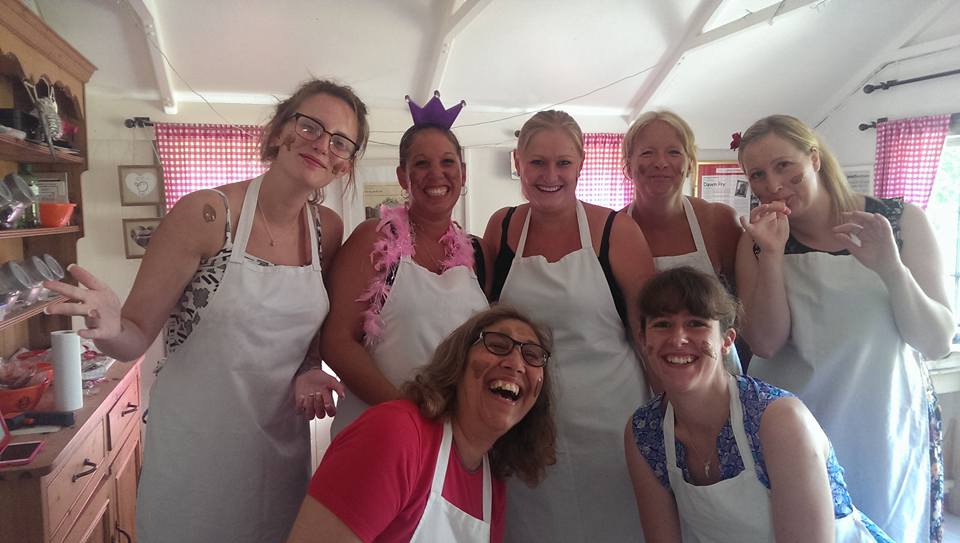 Have you identified your own superpower yet? What you are known for, what comes easily and naturally that you are really good at?
Well, without I hope, sounding big-headed, hosting is my superpower. I love it, whether it's for chocolate fun at my workshops or a dinner party with friends and family, it's my thing. Feeding, encouraging, teaching, demonstrating, sharing, and enjoying your company. It's a sweet experience!
Clean & Re-set
When you've all left the cleaning begins, I pop on the music and get the job done. Usually, there is another workshop coming in, so I will clean and then prep for the next event so I'm ahead of the game!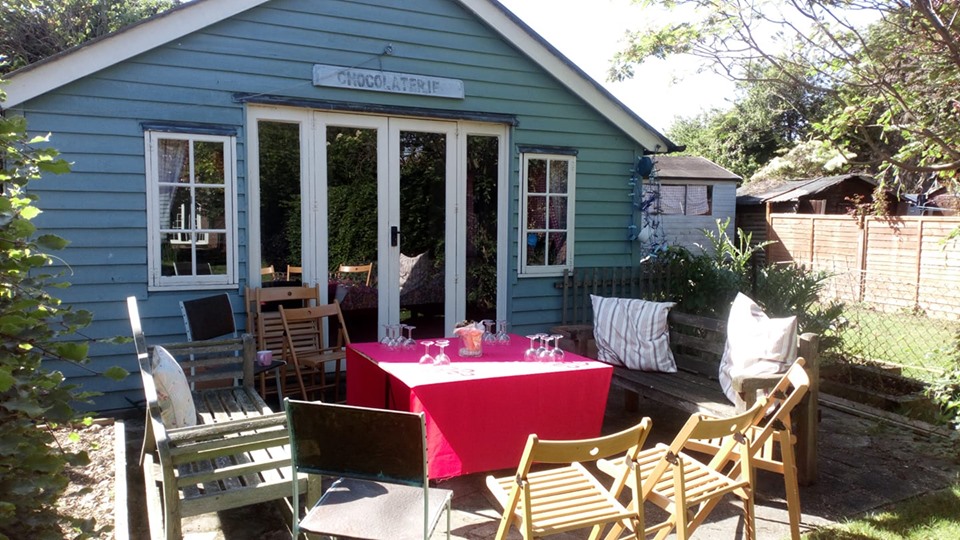 The summerhouse is a special space for me. It's calming and relaxing, down the end of my garden, like a little chocolate oasis. 
An escape from home, but at home at the same time, heaven.
And Finally
When I return to the house, I'll carry on with some business admin, walk the dog, play tennis, get the dinner ready (I'm always the cook in our family) go out or chill in front of the TV.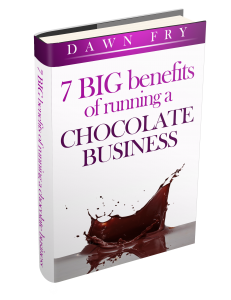 Events vary, while most are workshops at the end of my garden, I also cater for corporates and schools so I might be designing new events, or prepping for something bespoke, huge, or both.
Research might take me to a new chocolate shop, attend a chocolate event, or try some new products – the research for this job is pretty tough, but someone has to do it!
Being my own boss and in particular working with you and chocolate has been the best move I ever made. 
If you are inspired by a world of chocolate, you might like to read my free e-book '7 Big Benefits of Running a Chocolate Business' Please follow the link to grab your copy.
I'm off to slip off those chocolate shoes for now, see you at the chocolate tanks very soon!